7 Easy Style Upgrades To Make Right Now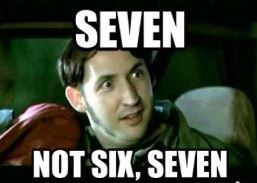 Summer is, thankfully, coming to an end. Here in the Northeast the leaves are already starting to change. There are fewer bugs at dusk. Oktoberfests have replaced the shandies in the beer aisle. And even though the afternoons are hovering around 80 degrees, it's almost cool enough to need a sweatshirt while walking the dog in the morning.
The change in the weather is the perfect time to make a few little style tweaks, as the heat of summer is a much less forgiving environment for wardrobe variation.
In the spirit of instant gratification, here are seven style upgrades you can probably make right this very moment. These aren't "makeover" moves. Just subtle shifts that put just a little spit shine on your appearance and won't elicit the dreaded "Woah! Why are you so dressed up?!" from your friends and family.
#1 – Swap out your sneakers.
Sneakers will never look as cool as boots. Sure, a plain white sneaker or a pair of Chucks is timeless and fairly versatile, but for sheer manliness, you can't beat a pair of boots.
Women (like your wife) don't find sneakers sexy. Even if she thinks you look great in your Limitededitioncommonjordanyeezyprojects she definitely would prefer to see you in a sleek, black Chelsea, or a beaten-up oxblood brogue.
The reason I mention boots is because it's almost fall. Since we are still technically in summer, if you feel like it's still too hot for boots, then swap out your sneakers for some boat shoes or loafers. Please do not wear sandals as they are ugly and impractical. I have never met a woman who preferred a man wear sandals.
#2 – Wear collared shirts.
Instead of a t-shirt, put on a polo. Or an oxford cloth button-down. Or a linen shirt. Or a denim shirt.
I once worked in the marketing department of a large international menswear company. The CEO once jokingly said to me that men's necks aren't attractive, which is why we always look better in a proper shirt.
Beyond the incremental improvement in style, collars are useful. This past weekend, my family and I went to a local fair and I appreciated the fact that I could turn up the collar of my polo shirt when the sun really started beating down. I was especially thankful when I saw all the red, beefy napes of the other dads.
I know you probably have a couple t-shirts that are a bit nicer than average. They probably are a bit more luxurious than normal. They probably fit you just right. That's all fine and there certainly is a time and place for a great fitting t-shirt. All I am saying is that a shirt with a collar will, more often than not, be a better choice.
#3 – Wear a proper hat.
This one is a little more difficult because I recognize the hesitation many men have about wearing a hat that isn't a baseball cap.
I get it. Even as an ardent hat-wearer, I understand that hesitation. No one wants to be the "hat guy". I went to college with a guy who wore a fedora all the time and he actually had a ponytail, a neckbeard, and said "m' lady" years before that became a meme.
So, I get it.
In order to not garner those kids of associations, a flat cap is a great alternative to a baseball cap. You don't have to change any other aspect of your attire if you swap out a baseball cap for a flat cap, as they are just as casual.
A tweed cap when it's cold. A linen cap when it's hot. I like plaid patterns, but a solid color like navy won't raise any eyebrows.
#4 – Wear a watch.
When I say "watch", I mean an analog watch.
You don't have to break the bank here. There are plenty of excellent watches from Timex or Seiko that can be had for $100 or less. In a sea of G-Shocks and Apple watches, you'll stand out in a good way with a handsome, understated timepiece.
Reliability is the name of the game here. Choose a watch that can carry you through all your adventures. It doesn't have to be automatic (which means the movement of your wrist charges the watch instead of a battery), but that does mean you will never have to worry about changing the battery. The drawback is that automatic watches tend to be more expensive than quartz (battery-powered). Also, the automatics on the lower end of the price scale tend to be a bit chunky. If you're looking for a thin, automatic watch you'll probably have to shell out some serious cash.
There are tons of different features on watches and you'll need to decide for yourself what's important. Things like a rotating bezel or a date function are nice but not essential. In my opinion, a watch must have 3 hands (hour, minute, second) and sufficient water resistance. It also must be legible, which means high contrast between the face and the hands. That's really all you need.
This is purely personal, but I always think a leather strap looks more stylish than a nylon strap or a metal bracelet. On inexpensive watches, the metal used can look kind of cheap. Putting a watch on a leather strap makes it look much more impressive even if you paid peanuts for it.
#5 – Break your jeans addiction.
Jeans are awesome. Everyone loves jeans. But there are tons of other options that will ratchet up your style.
I'm not advocating wearing your office-ready khaki pants everywhere you go (although you could and you would probably look great). Just grab some 5-pocket chinos or cords. Don't bother ironing them. Wear them in every instance you would wear jeans.
I wear mine playing outside with the kids or splitting wood. They're exactly like jeans except they aren't denim. The 5-pocket styling keeps them very casual but, again, you'll stand out every so slightly from the pack simply due to the fact that they aren't jeans.
#6 – Tuck in your shirt.
I know, I know… "don't be such a square!"
I'm not saying you need to tuck your shirt in all the time. But sometimes it just looks better. If you follow steps 1 and 5 and find yourself wearing an oxford shirt with a pair of 5-pocket pants, tucking in your shirt is the way to bring it all together by demonstrating a hint of extra effort.
And don't worry if your tuck job gets a little messy as the day goes by. It will look natural and comfortable. Just don't do that weird only-the-front-tucked-in thing. That just looks like you got your shirt caught in your pants after you used the men's room.
A tucked-in shirt also looks better with the majority of men's jackets, since they are often only waist-length. Think of a leather bomber, or a denim jacket, or a Harrington jacket… they all hit just at the belt line. That cropped length is part of what makes them look so good on men (by emphasizing the upper body). If you don't tuck your shirt in, it will be sticking out awkwardly underneath the hem of the jacket.
Tucking in your shirt is also very practical in cold weather as the wind doesn't go whipping all the way up your back.
#7 – Stand up straight.
The easiest one of all!
There is a phenomenon I have noticed among many Instagram menswear enthusiasts. I call it the "Menswear Pelvis". It seems every stylish guy on Instagram poses the same way. Locked knees, feet slightly flared outward, shoulders rounded forward, back slumped, chin out, pelvis way out, usually carrying a canvas tote or a giant leather purse of some sort. I have not included pictures to protect the not-so-innocent.
All these guys would look one hundred times better if they just stood up straight! Don't lock your knees. Straighten the back, open up that chest, and breathe. Take a big breath from your belly. Don't allow your chest to move until the bottom of your lungs are full.
When you stand up straight, you are allowing space in your body for all that wonderful oxygen.
You will be amazed at how tall you feel. You'll feel like you're taking up a ton of space. You'll feel like a man.
What I love about these points is that you don't have to do all of them at once. Pick the ones that work for your current style and go confidently into autumn with a few new tricks up your sleeve.