What I Wore: Ice Bar And Dinner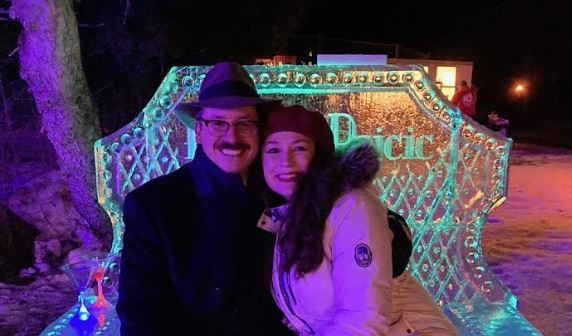 This past weekend, my wife and I went to an "ice bar" event at a local inn.
It was a lovely little excursion, as we stayed overnight. My wife's parents watched the boys for the night while we were gone.
The event presented a challenge we all face this time of year namely, how to stay warm and still look respectable. Or, how to not feel like I was trading in style for practicality.
The event was essentially a showcase for local distilleries. It was held in an open space near the inn that they had adorned with lights, ice sculptures, and fire pits. There was a bonfire and a burrito truck. Even the high-top tables were carved out of ice.
It was great fun and the cocktails were first-rate.
On the surface, the choice of what to wear seemed pretty straightforward. It was by no means a "fancy" event, so going totally casual would have been fine.
However, the wrinkle was that my wife and I had a dinner reservation in the dining room of the inn once the ice bar event wrapped up. We were staying at the inn and could have gone back to our room to change before dinner, but we didn't want to waste that much time.
So, the challenge was: how do I dress for the ice bar AND dinner?
This would require mixing some formality levels.
Priority number one was warmth. The temperature was in the low 20s Fahrenheit and I knew that if I sacrificed warmth for style, I would be miserable the whole night.
Since the event was outside, and there had been recent snowfall, I knew that my fur-lined boots were in order. The boots were the only really incongruous item in my whole outfit. But I knew that anything dressier would have been inadequate. I know this will garner some eye-rolls, but my boots are Uggs. I've had them for years and they are still trucking along (and they have seen some brutal winters).
Within my boots were wool dress socks. They work well since my boots fit so snugly due to the fur. Also, they are above the knee, which provided more bodily coverage and, thus, insulation from the cold.
The pants I chose were thick corduroy in burgundy. I got these from Brooks Brothers on sale many years ago and they are my go-to when I want to "dress up" a little in the winter but not look too out-of-place in a casual setting. They are excellent for that "relaxed country gent" look.
I used suspenders instead of a belt. I tend to forget how comfortable suspenders are, but holy moly! I appreciated them even more later in the evening after my belly was full of whiskey and crispy duck breast.
My upper half was comfortably swaddled in five layers.
I did a simple undershirt under an OCBD. Over that, I had a green merino V-neck sweater from Orvis. On top of that was my thick, Harris Tweed sport coat from Brooks Brothers.
My necktie was a wool navy tie I purchased in Ireland some years ago. The older I get, the more I appreciate a simple, dark, solid tie. Kind of like how a white, linen pocket square always looks good, a solid, dark tie usually looks the best (I find).
Speaking of pocket squares, I went with a brown square with little navy spots. This was a souvenir I picked up when my wife and I went to Paris a while back.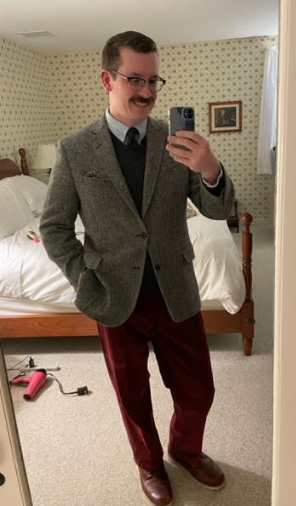 I topped everything off with a wool and cashmere double-breasted overcoat in navy (from J. Crew). I appreciated having a large collar to turn up against the wind.
Lastly, gloves, a scarf, and a hat were necessities. I don't find that my ears get too cold, so I went with a fedora, specifically a grey Stetson Temple.
I find the Stetson Temple to be a pretty perfect fedora. I'm as much of a "hat guy" as anyone and can definitely appreciate the "finer" examples of the style, but for my money it's hard to beat a Stetson or Akubra for the money (especially Akubra).
As far as the Temple goes, it has good proportions, the felt is soft, it's durable, and can be worn both casually and with a coat and tie.
And it did a great job keeping me warm! People sometimes don't understand how well a proper brimmed hat can insulate.
When we arrived at the event, we grabbed some drinks and made our way to one of the empty high-tops, where we parked ourselves for the duration of the evening (until our dinner reservation).
Let me tell you, I was SO happy I dressed the way I did, specifically warmer than I thought was needed.
It wasn't SUPER cold but we weren't moving around much at all. We were standing in one spot (sometimes leaning against a table made of ice). We were also drinking cold cocktails.
Initially, I thought maybe I didn't need as many layers. But as the night wore on I was thankful I had them. I saw so many men shivering like crazy in nothing but flannel shirts or cotton hoodies. I know most people don't think about what they wear as much as I do, but that seemed like a bit of a miscalculation even for regular people.
As our dinner reservation drew nearer, my wife and I popped back to the room to change our shoes (she, too, was wearing winter boots but wanted heals for dinner). I swapped out my boots for some brown leather shoes (my Beckett Simonon Dunhams) and removed my sweater from underneath my jacket.
Voila! Ready for dinner!
The dining room of the inn is a beautiful, old, rustic space. Lots of paintings of things like horses and quails and hounds. A crackling fireplace here and there. A place where men in tri-corner hats probably drank ale after a long day of traveling.
It's a place where a worsted suit would actually feel a little out-of-place. My tweed jacket, wool tie, and corduroy trousers felt right at home.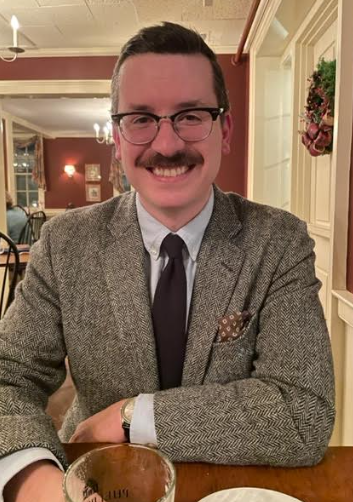 After a stellar meal of duck, Brussels sprouts, potatoes, crème brulee, and couple pints of beer, my wife and I made our way back to our cottage.
It was a magical night and I had great fun figuring out what to wear.
I've said it before and I will keep hammering it home: Do your best to ENJOY getting dressed. It will add layers of enjoyment to your day and present you with fun challenges.
And your pictures of the event will be much better if you have put some thought into what to wear!