Denim Shirt: Super Shirt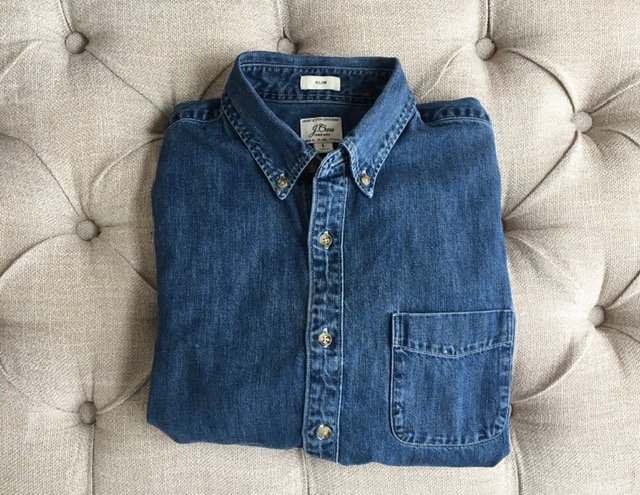 I have a confession: I've been wearing the same shirt almost every day for a few months. Yes, I said "months". Have I washed it in that time? No. Now, in my defense, I don't usually wear the shirt for the whole day. And my questionable hygiene isn't the point. The point is that this shirt is so comfortable, so versatile, so handsome, that it works in damn near every single scenario. Is it, dare I say, the perfect shirt?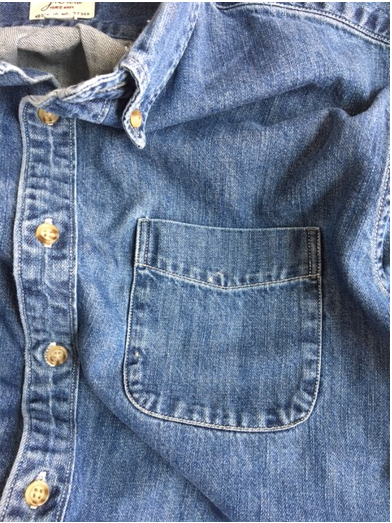 The shirt is a simple, classic, medium-dark wash, one-pocket, button down collar denim shirt from J. Crew. I think it cost me $50 on sale. Over the past few months I honestly have not found an instance in which this shirt does not excel.
I started wearing it in an effort to step up a little from just wearing t-shirts around the house. I always liked the idea of wearing oxford cloth button downs in a casual way, but they always felt a little too precious. It always felt like I was wearing a "dress shirt" and I couldn't get over that mental block and just enjoy the shirt as I rolled around on the floor with the kids. Also, it never felt right having it untucked, which limited its usefulness for me. Fortunately, this denim shirt ticks all the right boxes.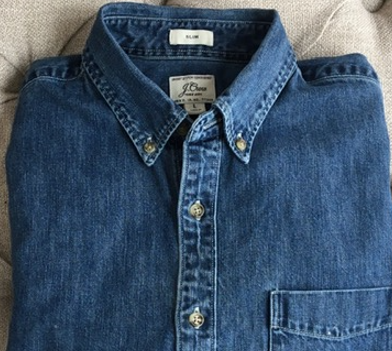 I think what I love most is that it aptly straddles the line between smart and casual. Simply choosing a shirt with buttons is a level up but the denim shirt doesn't cross all the way into dress shirt territory the way an OCBD does. Leave it untucked and bum around the house with the family, or tuck it in and toss a sport coat over it for a Zoom call. The ability of this shirt to do double duty is what I really love about it. Lots of denim shirts lean way more into casual territory with more western details like flap pockets, snap buttons (which are sometimes colored), or curved/pointed yokes or pockets. Nothing wrong with these details but they make a shirt strictly casual. This J. Crew denim shirt of mine has a simple breast pocket and a button-down collar. It's essentially an OCBD just in denim instead of oxford cloth. This means that it CAN slip easily under a sport coat or sweater if needed.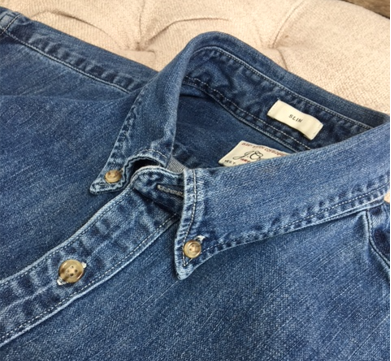 As for the practicality of wearing it around the kids, the mid/dark wash and twill weave ensures any drool or food splatters are not immediately visible. The weight of the shirt is also spot on. Light enough to wear around the house without overheating (especially when cooking) but heavy enough to handle some serious roughhousing. And since it's a hearty denim, I don't need to wash it after every wear which means it's always available to grab and throw on. No messing around with washing/drying/ironing. The only instances in which I wouldn't wear this shirt are if I was wearing a suit or if I required a tie. It's still denim, after all.
This might be the last shirt I'll ever need.