The 5 Most Attractive (Reasonably Priced) Dive Watches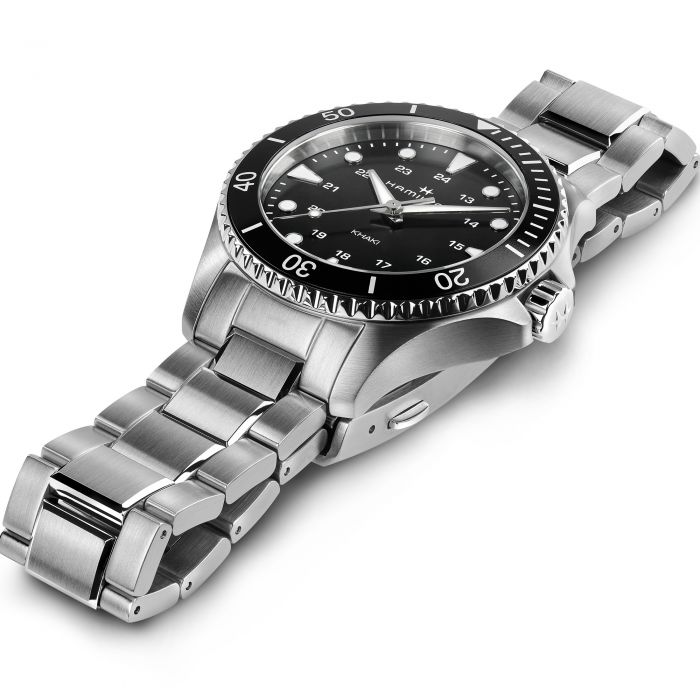 Let me get one thing out of the way right out of the gate…
I understand that "reasonably priced" means something different to all of us. For one guy, a "reasonably priced" watch is $25. For another, a "reasonably priced" watch is $5,000.
What I'm trying to do with this article is give you a view into the best looking dive watches for prices that most people would deem reasonable for what you're getting, that is, a quality tool that will last many years of daily use.
The prices in this article are all well below $1,000. That is definitely a large chunk of money for most people (including me). But I didn't want to offer you cheaper options, because you really do get what you pay for. Usually, if you pay $25 for a watch, you're going to get exactly that… a cheap watch.
Just like with shoes, hats, and pretty much everything else, it's better to shell out a little more now for something you know will last.
Now that you know the price-point of the items in this list, you obviously know that you will NOT find the Rolex Submariner, the Omega Seamaster, the Tudor Black Bay or Pelagos, the Blancpain Fifty Fathoms, the Panerai Submersible, or any other "luxury" watch.
While all those watches are, no doubt, beautiful and remarkable technical marvels, they are way too expensive for the average guy to consider. This article is for regular people, like me, who are thinking they might need a robust, reliable, handsome watch that won't break the bank too much.
Another thing I should mention is that most of my selections look pretty similar to the Rolex Submariner. And that's because pretty much every single dive watch looks like the Rolex Submariner. There's no getting around that.
Lastly, the items I have selected all fall within a pretty limited size range. A few years ago, it was all the rage to wear oversized watches (think 43mm diameter and larger). However, most men don't have the build to support such a large watch. I am 6 feet tall and about 190 pounds and I don't think anything over 42mm looks good on me. Between 36mm and 42mm is the sweet spot for 99% of men (for a round watch, that is). Divers tend to be a bit larger, but I still find that they look best around 38mm or 39mm.
You will also notice that I have included a few quartz selections. That's because, at this price-point, it's difficult to find an automatic watch that isn't chunky as hell. Thinness plays a big part in making a watch attractive and comfortable enough for extended, every day wear. And isn't that what we are ultimately going for here? I don't want to wear a watch that's only comfortable for few hours. I want something I can wear literally all the time without it being a burden. I want to get my money's worth!
So, why have I selected specifically dive watches for this article? It's because, in their modern iteration, dive watches provide the best all-around value from both practical and aesthetic perspectives.
Practically, a dive watch usually offers a rotating bezel (that circular disk on the outermost perimeter of the face of the watch) which is very useful for timing things like dinner (how long the pasta has been boiling, or how much longer the chicken nuggets need) as well as how much longer the kids have on the playground.
Parenting Pro Tip: The timing bezel of a dive watch is awesome for proving to your kids that yes indeed, it HAS been "just 5 more minutes"!
Another aspect of a dive watch that is absolutely integral to its practicality is its water resistance. Clearly, a watch ostensibly used for diving needs to be adequately waterproof. All the items you find on this list have at least 100 meters of water resistance. That's the equivalent of "10 bar". In my mind, anything less than that isn't really ideal for a go-anywhere watch. I want to know that my watch can handle extended submersion.
One last point on practicality: Dive watches often have a metal bracelet or rubber strap. These are much better at handling water than a cloth or leather strap. I have also found that, for the long haul, metal bracelets are better at dealing with things like sweat, salt-water, sunblock, bug spray, and all the other yucky things we encounter in our day-to-day that would otherwise soak into a cloth strap.
From an aesthetic perspective, since dive watches have been around in their current iteration for over fifty years, they are totally ubiquitous. That means that, yes, you CAN wear a dive watch with a suit and no one will bat an eye. To most people dive watches are just… watches. Most people don't separate watches into "dress", "dive", "pilot", "chrono", "tool", "field", or any of the other little categories we internet weirdos abide by. To the vast majority of people, a watch is a watch is a watch and you can wear the same watch to dinner as you did to the beach.
With all that being said, here is my list of the five most attractive (reasonably priced) dive watches available today.
Note: I don't get any commissions or kickbacks from any of these companies.
#1 – Tissot Seastar Quartz 40mm ($425)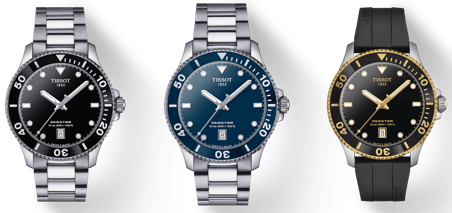 Tissot has been making quite a splash (sorry) in the watch world lately with their PRX. I understand why that watch has some hype, but I don't find it to be all that attractive.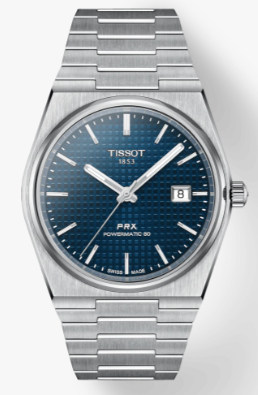 Integrated bracelets seem to be having a moment, but I'm just not on board.
Tissot's Seastar line has a handful of other options along with this 40mm quartz, such as their Powermatic 80 (which, as the name suggests, has an automatic movement as opposed to a quartz battery), but that watch is 43mm and $750 which is a bit too high on both of those figures for me to include it on this list.
I recently tried on both this 40mm and the smaller 36mm version at a Tissot shop in NYC. The 36mm version felt a little too dainty, so I preferred the 40mm out of the two. The salesman told me it was actually 39mm, which I thought was a little strange, but, whatever.
One thing I liked about the look of this watch is the simplicity of the dial. I tried on the black/white dial version (on the steel bracelet, not the black and yellow version) and I was surprised at how large it wore. I had taken off my 42mm white dial Bulova dress watch prior to trying this on. A white dial watch always appears larger than a black dial watch of a similar size. I think the illusion of the black Tissot looking so big was because of how uncluttered the dial is. The only thing on the dial is the Tissot name, the "1853" right under it, and then "Seastar" and the water resistance at the bottom. There's not a ton of text gumming up the dial.
Also, the hour and second hands are quite slender. On the 43mm automatic version you can see how thick they made those hands.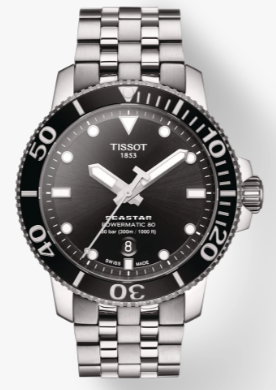 I feel the thinner hands of this version are much more elegant. The circular and rectangular indices are also quite small which leaves much more open, black space on the dial.
The fact that the watch wore larger than expected wasn't necessarily a bad thing because of how thin the watch is. Like I said earlier, at this price-point, an automatic watch is going to be a bit thick. Since this is a quartz watch, it felt thin and very comfortable. This watch would easily slide under a dress shirt cuff.
One more point regarding the dial before I move on to the bracelet: I appreciate that Tissot put the date function right at the 6:00 position. This gives the dial a nice symmetry that it otherwise wouldn't have if they put the date at the customary 3:00 position or at the dreaded 4:30 position.
As far as the bracelet is concerned, I found it to be suitably comfortable. I liked that the bracelet's clasp had an extra fold-over safety clasp as well as a two-button release. The bracelet can also be swapped out for a different strap without the use of tools, which is something I think every watch should have.
Another nice aspect of this watch is the end-of-life indicator for the battery. Apparently, when the battery is low, the second hand jumps a couple seconds at a time to let you know to change the battery.
Oh, and the water resistance is a beastly 300 meters.
If I had to wear any watch on this list, the black/white dial Tissot Seastar would be it.
#2 – Hamilton Khaki Scuba Quartz 37mm ($545 – $675)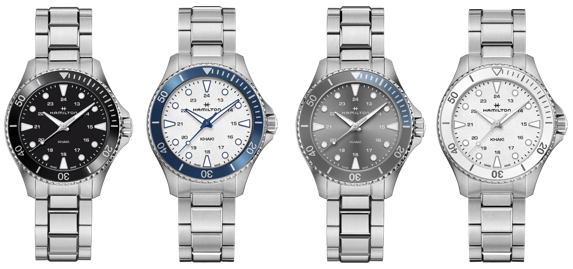 There are seven different iterations of this watch. The silver dial and white dial/bezel options you see above both can come with a nylon or rubber strap, respectively. Also, there is a green dial version with a green nylon strap.
What I like most about the appearance of this watch is the size. At 37mm it is just about the perfect size for any watch. The fact that it's quartz means that it will be thin enough to be comfortable for extended wear. Remember, if you want an automatic watch that's as thin as quartz, you'll need to spend a lot more money.
I also like the military timing at each of the indices. The numbers are small enough to not intrude on the cleanliness of the dial.
From a looks point of view, there really isn't anything to complain about with this watch. However, from a function perspective this watch doesn't quite rise to the level of the Seastar in the previous entry.
While this watch is a better size than the Tissot, it does not have nearly the level of water resistance (only 100m). Now, while 100m is more than sufficient for everyday wear, at this price (and this is the most expensive watch on the list), I want something more robust. I have a $125 Timex field watch with 100m of water resistance. If I am buying a watch with "scuba" in the name, I want all the bells and whistles of a true dive watch.
This watch also does not have a date function nor does it have a safety clasp on the bracelet.
So, even though this watch is a better size than the Tissot (and arguably better looking overall) I personally wouldn't pay the higher price for fewer features.
#3 – Vaer D4 Meridian Black – USA Solar 38mm ($449)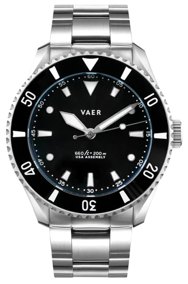 Here is another watch, like the Hamilton, that has an excellent overall look and is a perfect size.
Again, uncluttered dial. I also love the big, fat sword hour hand. This likely makes the watch incredibly legible in low light. I know I'm a little weird, but I wear a watch while I sleep. I like being able to see what time it is in the middle of the night if my kids wake up or if the dog barks. I can't see a clock without my glasses, so I find it incredibly convenient to glance at my wrist. I'm sure I would find this chunky hour hand very useful.
I am not sure what the difference is between the "standard" steel bracelet and the "premium" steel bracelet. The pictures on the website show a bracelet with a fold-over safety clasp, which gets points from me. It also appears that the bracelet is quick-release to allow for strap changes, which is also a plus.
Throw in a water resistance of 200m and this watch seems like a home run… except for the fact that it doesn't have a date and doesn't have crown guards.
There are purists who scoff at dive watches with date functions. "Who needs to know the date when you're diving!?"
But I like a date function. If I am shelling out a least a few hundred dollars, I want my watch to be as useful as possible.
As for crown guards, I find them very useful, but not for the reason you might think. They are there to protect the crown from getting knocked off if you accidentally bash your hand against something. However, I find them most useful for making sure my watch doesn't get stuck on my shirts or jackets or sweaters as I am pulling them on or rolling up the sleeves. Maybe I am the only person who experiences this, but I get wanting to have crown guards on your every day watch.
I think the best aspect of this watch is the solar battery. You get the svelte case of a quartz watch with the reliability of an automatic.
Even though this is a microbrand that hasn't been around nearly as long as the established companies on this list, Vaer has a good reputation. There are multiple options for almost all their watches (automatic, quartz, various sizes, etc).
If this 38mm had a date function (like the 42mm counterpart) then this watch would be a real winner for me. However, it's the same price as the Tissot which not only offers a date function, but 100 extra meters of water resistance. Hard to compete with that.
The size is pretty perfect, though.
#4 – Baltic Aquascaphe Automatic 39mm ($621)

The Baltic website only gives me the price in Euros so the $621 above is from a Google conversion I did.
The Aquascaphe comes in five iterations of the regular version, three of the bronze version (one of which I show above), and three of the dual-crown version. The four examples I gave are the ones I find to be the best looking. I also gave an example of the beads-of-rice bracelet, the flat-link bracelet, and the tropical strap offered on almost all the watches.
I don't know what it is, specifically, that I like so much about the look of these watches. They just look so nautical to me and I can't really explain why. Perhaps it's due to the crystal which gives the dial a bit of a fishbowl look to it.
And I love that uncluttered dial! I'm not sure which one looks the best. The blue looks cool, but I think colored watches tend to look a little gimmicky. They remind me of the Fossil watch I bought at the mall when I was sixteen. I prefer the black dial with the white indices (also available with cream indices). The bronze version is excellent, but according to the reviews, the tropical strap (which is the only option with that watch) is total trash. It's odd that a company which is clearly dedicated to providing a quality product messed up so badly on the strap. I get that they can't offer the steel bracelets from the other watches with the bronze case, but they should have a few other strap options available for the bronze case version of the Aquascaphe.
From my perspective, the black dial Aquascaphe is pretty much unimpeachable in the looks department. The hour and minute hands are the perfect size and shape. No silly lollipops or skeletons here.
The only gripes I have with this watch mirror those I had with the Vaer, namely, no date and no crown guards. Also, the price is a little steep. But… it's an automatic movement with a fairly slim case. So, there are a lot of trade-offs to consider.
Personally, if I was going for an every day watch, I would want something with a date function at a lower price. North of $600 and I am going to start feeling a little too precious about it.
And even though I know this is a brand with a good reputation, it's still considered a microbrand. If I drop a few hundred dollars, I like the idea of buying from a company with some history and even a store-front where I could go with questions or concerns if need be.
At this price, what does this watch offer that the Tissot or Hamilton do not? Automatic movement, perhaps? Sure, but you could then spend a little more and get the automatic version of the Hamilton.
I'm just not seeing the value for the price over other brands with more history.
#5 – Timex Navi XL Automatic 41mm ($279)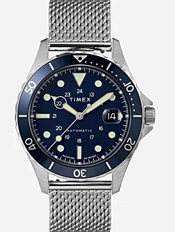 I couldn't write an article about reasonably priced watches and not include at least one Timex.
This Timex is at the very upper limit size-wise, but I felt like I needed to include it for several reasons.
This watch does more (functionally speaking) than any other watch on this list. It has the timing bezel, military time (which you can read through the hour hand), a date function (with cyclops), and crown guards. It's also an automatic for under $300. Predictably, the watch is a little thick, but for under $300 who is complaining?
The bracelet is a simple quick-release steel mesh with an adjustable clasp which means you can always get a perfect fit (huge plus). The bracelet also has excellent user reviews.
The only downside is that the water resistance is only 100 meters, but honestly, you're getting so much watch for the price that the water resistance is definitely good enough.
Now, I do wish this watch had a black dial, but the blue used here seems pretty dark.
I actually own an earlier version of this watch. It's a "field" version in black, 39mm, quartz, no date, on a nylon strap.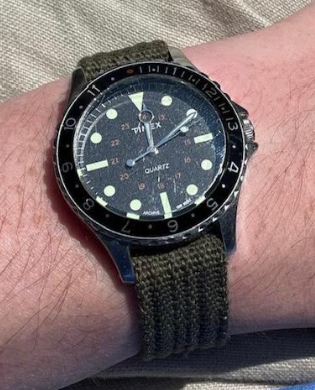 It's a fantastic workhorse and I have mentioned it before in my "Tools" article. The only criticism I have of my watch is that the bezel is almost impossible to rotate. It doesn't click, it just slides, and there is way too much friction. I've owned the watch for four years and I can just now turn it with one hand.
If this Navi XL version has that same type of bezel, that would be a massive misstep by Timex. Hopefully, they worked out that bug by now.
Does this watch have the sexiness of a French microbrand? No. Everyone who knows Timex knows what they are getting: inexpensive and no-frills. But, even I was surprised at how handsome this watch is. And for under $300, it seems like a real steal.
The issue I see with this watch is "wearability". A 41mm automatic for this price is going to feel like a bit of a brick on the wrist, so you just need to figure out if that bothers you at all.
Important note: Some of you might be wondering how I could write an article about affordable dive watches and not include Seiko or Citizen. Well, I didn't include them for two simple reasons. One, I think they're ugly. Two, I think that they are sort of overpriced. The divers in the 36mm – 41mm size range are roughly $700 – $1,000. No, thank you.
So, there you have it. These are the five best looking dive watches available right now at prices that hopefully won't make you seasick.
If I have missed anything obvious, please let me know!