How To Avoid Pet Fur/Hair Sticking To Your Clothes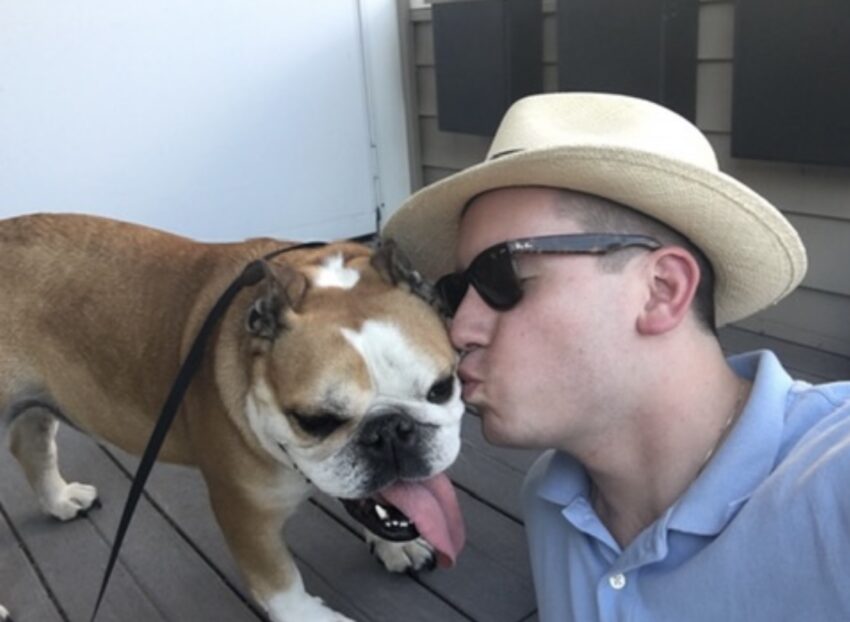 One of the major, irrational frustrations I used to have when it came to clothes was the propensity of some items to attract pet hair or fur.
This was something I knew I needed to get over in order to fully appreciate my clothes.
Obviously, a quality lint roller is definitely a wise purchase. But what are some good choices for clothing items that don't attract pet hair as easily as others?
Basically, think of this way: Stay away from anything fuzzy, especially if it doesn't have a pattern.
Here are some things that I have discovered don't attract much pet hair, broken down by category. Keep in mind, though, that these might differ for you depending on what kind of pet you have.
I have a thirteen-year-old tan and white English Bulldog. The color of her fur shows up more apparently on my dark clothes. If she were a black lab, I'd probably need to make some adjustments.
Also, she doesn't shed as much as, say, a Bernese mountain dog or a golden retriever.
Lastly, she doesn't get on the furniture, which limits the amount of fur that can get on my clothes.
What I am saying here, is that if you have a Newfoundland who sleeps in bed with you, there is no way you are avoiding pet fur on your clothes. The suggestions below are geared towards less-extreme circumstances.
Pants –
On the smarter end of things, good 'ol reliable twill khaki chinos are your best bet for not showing pet hair. Honestly, there really isn't anything these things can't do. I would recommend against moleskin, or something that has a nappy finish, though. Stick to the smoother old fashioned khaki trousers.
Stay away from things like dark flannel. The fuzziness acts like Velcro for pet hair. However, a mottled or marled pattern could work depending on the color.
On the more casual end of the spectrum, you can't go wrong with jeans, just make sure they are in a medium to medium-dark wash. Anything too dark (or black) won't work for light colored hair.
Shirts –
It's almost impossible for a menswear writer to go more than a few articles without mentioning an Oxford cloth button down shirt in some capacity, and that is for good reason.
When it comes to pet hair, I find that none of my OCBDs attract much of it. Even though the oxford weave isn't as smooth as, say, poplin, it still doesn't make pet hair stick to it.
Denim shirts are also excellent in this regard, as are most flannel shirts given the fact that they are so busily patterned (which hides everything from pet hair to stains).
Sweaters –
This category is a little more difficult to parse out, as some sweaters made from the same material from different companies will perform differently.
With that being said, usually cashmere isn't great in this circumstance. You're better off going with a finer merino wool. It's less luxurious, for sure, but it's smoother than cashmere and pet hair won't stick to it as easily.
Aran sweaters are also surprisingly good here. Any errant pet hair gets lost visually within the complicated weaves.
Jackets –
In the fall and winter, go with tweed. I don't know why it is (give how coarse tweed is), but I have found that most tweed jackets do not suck up (or show) pet hair too readily. My grey, herringbone, Harris Tweed jacket from Brooks Brothers is pretty impervious to pet hair. Maybe it's because the pattern is somewhat busy, so the hair doesn't appear visible.
Keep in mind that tweed was originally used for things like hunting. People who wore tweed were constantly around animals, so it makes sense that what they wore appeared hair/fur repellant.
In the summer, seersucker is a great choice. Hopsack weave sport coats work well, I have found, too. My regular twill wool jackets don't seem to perform too well in this regard, especially since most of the ones I own are dark colored.
The reality is that if you own a pet who sheds, there is no way you will escape having some pet hair on you when you leave the house.
It's the same as having kids. Your clothes will always be a little stained, or a little wrinkled. That's just what life looks like with other living things in your house… especially dirty, slobbery, stinky things…
…and the animals, too!